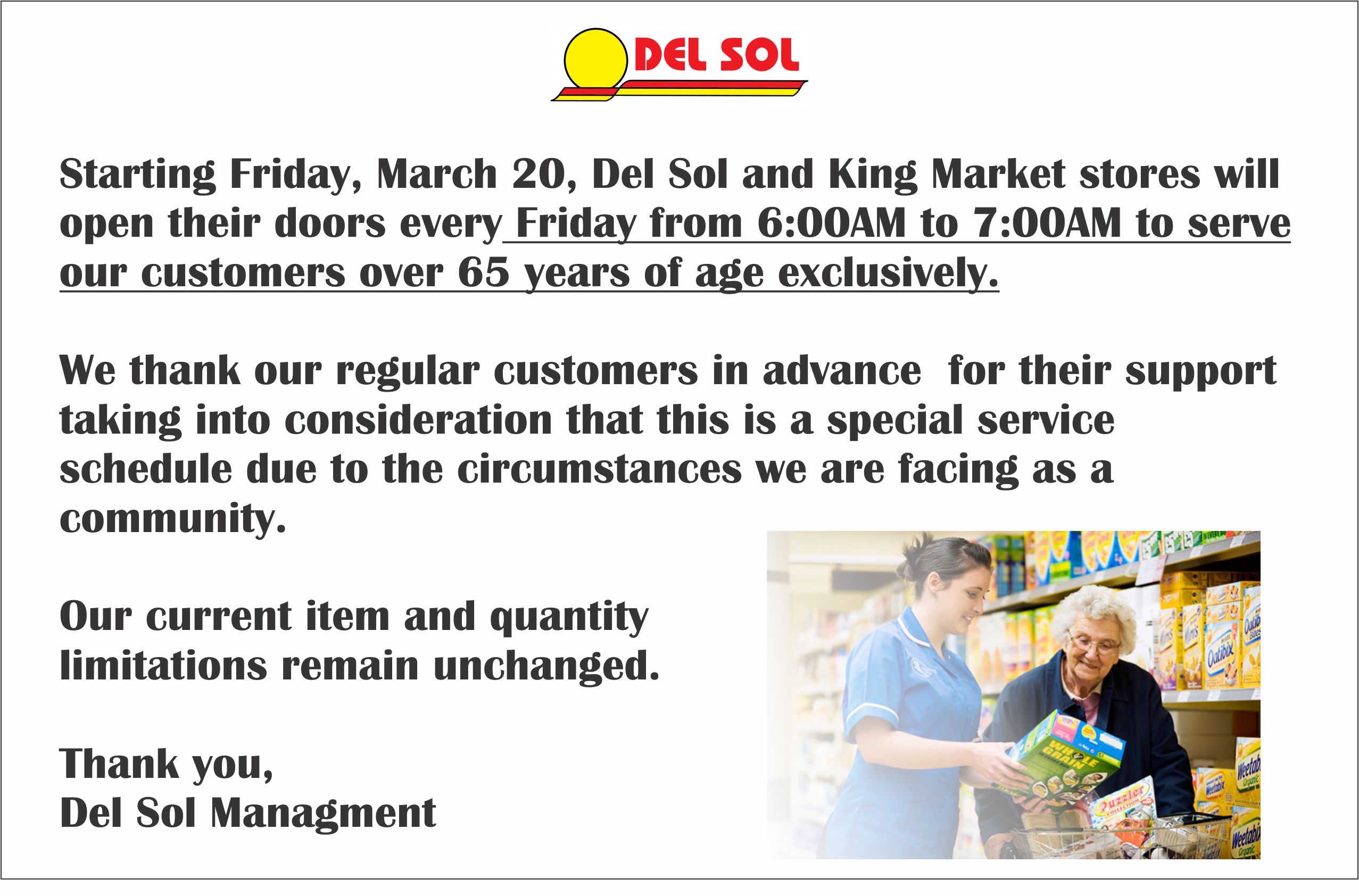 March 17, 2020
Del Sol Market is concerned with the unprecedented global challenges that we are facing due to coronavirus (COVID19).
We would like you to know that during this time, the health and safety of our customers as well as our team members is our highest priority, that is why we are monitoring guidance from local, national and global health organizations.
Effective Today, 3/17 we are closing our stores one hour earlier,  opening hours now are from 7am – 9pm  Monday – Sunday. This is to ensure our employees have ample time to restock, clean and sanitize the store.
We are working hard to keep our stores stocked and replenished as fast as possible to better serve you as we usually do, however, due to an unprecedented demand, we cannot guarantee in stock conditions for all of our items, therefore you may find that some items will be limited in quantities for purchase.
As a local family grocery chain, we are making decisions to improve the challenge we are facing to deliver the products you need at the fair pricing with the best service, unfortunately, we are dependent on our supply chain and they are are facing a challenge to replenish too.
Thank you for being a loyal customer and thank you for being part of our family.
March 20, 2020
Dear customers,
We would like to inform you that given the situation we are all going through in the community, we are making an extraordinary effort to keep the supply of merchandise and prices affordable.
Unfortunately, our suppliers have had to raise prices due to the difficulty they also face in this situation and the urgency of bringing the merchandise to us and making it available to you.
Due to this shortage, we have decided, like our competitors, to limit the quantities so that the basic products can reach more families.
We hope you understand, we know that at this moment the most important thing is to think about the well-being of everyone, to follow the prevention measures and guidelines.
We will continue to do everything possible to supply the stores and make food and basic products available to you.
Thank you so much.